Overview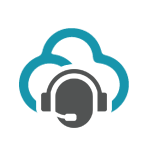 TeleData Link offers carrier class contact and call center service to any size business. Like all of the platforms in the TeleData Link ecosystem, the Contact Center as a Service (CCaaS) solution has been developed to deliver the highest quality experience to users without the need for significant investment.
CCaaS is an all-in-one virtual contact center suite that includes ACD with Call Queuing, self-service via Interactive Voice Response (IVR), predictive outbound dialing, recording, administrative tools, and extensive integration capabilities.
TeleData Link CCaS is a proven platform that has been deployed for highly reliable contact center services.
A few reasons why TeleData Link CCaaS is an ideal solution for your business include:
True multi-tenant architecture, sharing of resources over all tenants in the platform providing economies of scale and optimizing utilization of resources
Operational efficiencies in single platform to supply and manage services to all tenants, with self-administration capabilities for individual tenants
Distributed resilient architecture providing global scalability and high reliability to meet requirements for multi-node deployments
Open interfaces and customization options on system wide or per tenant basis to provide tight integration options to allow for individual needs of different tenants
Choice of agent deployment options with soft clients, IP phones or using traditional phones
Flexibile and intelligent routing and handling of calls, ranging from simple skills based routing to complex interactive routing algorithms for larger tenants
Integrated self-service IVR capabilities
Integrated voice recording
Strong predictive and preview dialer options for outbound campaigns
Powerful real time monitoring and analytic reporting tools
Features
When it comes to features, TeleData Link Web Centrex shines.
User Features

ANI/CLI Customizations
Anonymous Call Rejection
Authentication by Digest
Busy Lamp Field
Call Forwarding

Call Forwarding Always
Call Forwarding Busy
Call Forwarding No Answer
Call Forwarding Not Reachable
Find Me (multiple numbers)
Sync with Server

Call Logs (Inbound and Outbound)
Call Monitoring

Automatic Recording
Supervising Mode
Silent Monitoring

Call Notify
Call Pick Up

Call Pick Up Department
Call Pick Up Domain
Directed Call Pickup

Call Recording
Call Return
Call Status (Real-time in User Portal)
Call Transfer

Attended Transfer
Blind Transfer
Intercom Transfer
Transfer to Voicemail

Call Waiting
Calling Line ID Delivery Blocking
Calling Name Retrieval
CDRs
Charge or Billing Number
Client Call Control (API and User Portal)
Conferencing (Multi-Way Calling)

Convene Conference
Invite Attendees
Multiple Conference Rooms
Scheduled/Instant Conference
Web-based Setup

Device Auto Provisioning
Direct Inward Dialing
Directed Call Park
Directed Call Pickup
Diversion Inhibitor
Do Not Disturb
Extension Dialing
External Calling Line ID Delivery
Hunt Groups
In-Call Service Activation
Instant Messaging (via XMPP or SIP SIMPLE)
Intercom
Internal Calling Line ID Delivery
Last Number Redial
Message Waiting Indicator
Music-On-Hold

System Default Music-on-Hold
Personalized Music-on-Hold

Phone Status
Presence
Privacy
Selective Call Acceptance
Selective Call Rejection
Simultaneous Ring
Shared Call Appearance
Three-Way Call
Two-Stage Dialing
Video Telephony
Voicemail

Default Greetings
Customizable Greetings
Name Recording
Email Notification
Voicemail Forwarding
Forwarding to Email
User Portal (View, Save Delete)
Voice Messaging Group
Voice Messaging Call Back

Web User Portal

Contact List with Presence
Click to Call
Inbound Call Handling Rules
Screen Pops
Messaging

Group Features

ACD
Auto Attendants

Personal Auto Attendants
Scheduled Auto Attendant
Chained Auto Attendants

Barge In
Business Trunking
Call Intercept
Call Park
Calling Group ID Deliver
Configurable Extension Dialing
Configurable Feature Codes
Configurable Directories
Device Inventory
Department Support
Group Announcements
Group Custom Ringback
Group Instant Messaging
Hot Desking
Hoteling
Hunt Groups
Instant Group Call
Listen In
Office Manager Portal (Web portal)

Active Calls
Auto Attendant Designer
Call Records
Call Statistics
Conference Bridge Configuration
Device provisiong
Moves, Adds, Changes
Music on Hold Upload
Queue Management
Voicemail Management

Night Mode
Paging
Simultaneous Ring (group)

System Features

Brandable Portals

All User Levels
Configurable Permissions
Custom Domains
Secure

Custom Integrations

Salesforce Adapter
Virtual Office Control Panel
Click-to-Call from WordPress and other CMS

API

Access all System Funtions
Call Control
Configurable OAuth Permissions
Even Subscriptions (webhook)
Mature and Well Documented

Fault Tolerant

Active-Active Architecture
Geo-distributed
Highly Scalable
Rolling and Hitless upgrades

Security and Fraud Detection

Auto Block Failed Registrations
Auto Block SIP Port Scanning
Auto Block Promiscuous SIP Devices
Velocity Filter for Bad Digits

Device Provisioning

Customized Directories
Domain and Device Overrides
MAC Management
Remotely Triggered Updates
Supports Major SIP Phones
Zero Touch Device Configuration

Regulatory Compliance

911 Emergency Calling Solution
CALEA (lawful intercept)
Uptime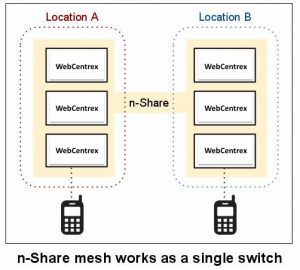 The TeleData Link platform uses always-available n-Share clusters co-located in geographically diverse data centers.
Most high-availability or n+1 redundancy schemes rely on a primary and failover node. In contrast, the n-Share system is Always Available.  That means that we provide identical service across multiple locations in real-time. With seamless and transparent failover between nodes, service disruptions are avoided because customer connections are automatically transferred to any nodes available.
So, a voicemail can be left on a Dallas feature server, and retrieved on the New York server immediately, even if the Dallas server is no longer available. It also means that feature options (such as call-forwarding or other * codes) take effect across all servers immediately.
As network traffic grows, TeleData Link adds capacity by deploying additional n-Share nodes. Newly added nodes are added to the n-Share mesh and automatically become available to share call processing tasks across all nodes dynamically and with zero downtime.  This means that we can expand to accommodate growth with zero impact on the availability of services to end users.
Where other high-availability schemes require the use of active and standby servers (with the standby servers left idle in readiness for a problem) n-Share creates efficiencies by dynamically distributing load across all available servers. This means that load can be dynamically shared across all connected nodes based on geographic distance from the user. Especially in cases where media-anchoring is required, this optimizes quality of service by ensuring voice and video payload will take the shortest path between the sender and receiver.
Mobile workers are now using SIP mobility clients (such as the PBX Fone mobile client) running over 3G and 4G wireless networks, where network conditions are often unpredictable. As a result, the ability to maximize quality of service in a scalable and reliable way is becoming more important than ever.  On that front, TeleData Link has you covered.
WANT TO LEARN MORE?
We would be happy to schedule a demo to help you learn about TeleData Link.