Overview
When it comes to replacing an on-premise phone systems with UCaaS, deciding what to do with the fax line is often a sticking point. The fact is that fax technology is not well suited to packet communications, due to its high sensitivity to latency and jitter over the last mile.
The TeleData Link Virtual Fax solution allows us to replace analog fax machines with confidence. Our cloud fax technology uses store-and-forward fax servers to eliminate problems typically caused by VoIP faxing. Like all TeleData Link solutions, our Virtual Fax offering has been designed to optimize business success. And, we offer multiple options for sending and receiving that makes it easy to use, and easy to trust.
Sending Faxes – End users have multiple options when it comes to outbound faxes, with support for sending from analog fax machines, email, the PBX web portal, and a mobile app. Fax senders can be notified by via email as soon as a fax has been successfully delivered, a feature that us especially important if your business is in a regulated industry.
Receiving Faxes – Handling inbound faxes is made simple with options to receive faxes on an analog fax machine, view and download faxes from the PBX web portal, or receive faxes in an email.
Features
Fax Features
Sending Faxes

Fax from PBX Portal
Fax from Analog Fax Machine (Using Store-and-Forward ATA)
Email to Fax
Fax from Mobile App
Receive Status Confirmation by Email After Fax is Sent

Receiving Faxes

View and Download Fax from PBX Portal
Fax to Email
Fax to Analog Fax Machine (Using Store-and-Forward ATA)

Dashboard

Instant Provisioning of Fax DIDs
Receive Fax CDRs by FTP or API
Order and Drop-Ship Fax ATAs Ready for Service
Fax ATA
Fax to Fax ATA
The TeleData Link Fax to Fax (Internet Fax from end-user's fax machine) service provides reliable faxing over the Internet.
t.38 and Internet Faxing
t.38 the ITU recommended standard for sending and receiving faxes over the Internet, was designed to send raw data over networks for fax transmissions. In theory, this should work fine. The reality, as anyone that has tested t.38 over the public Internet can attest, is at best, unreliable. Jitter, packet loss and PCM Clock sync issues often cause these faxes to fail and the longer the fax, the more likelihood of failure. For businesses that rely on fax as an important way to communicate with their customers and business partners, it is clearly a costly, frustrating and unacceptable solution.
TeleData Link takes the t.38 out of Internet Faxing
With the TeleData Link Fax ATA solution, end-users never need to worry about packet loss, jitter or PCM Clock sync issues creating fax failures. Our solution does not utilize t.38 at the end-user's location. Rather, our ATA (Analog Telephone Adapter) has proprietary software that receives fax transmissions from the end user's fax machine locally, and then transmits it to our servers using HTTPS. This process is not affected by jitter or packet loss and works perfectly well over any type of Internet connection.

Incoming faxes, destined for the end user's fax machine, work in the opposite direction. Incoming faxes are first received in at our servers, and then then transmitted to the end user's ATA securely, before being delivered to the end user's fax machine. Incoming faxes can also be delivered to the end user's email. If the end user's fax machine or ATA is off-line or unable to receive, faxes can queue until the ATA and fax machine becomes available available. Senders never get a busy signal and end users never miss a fax!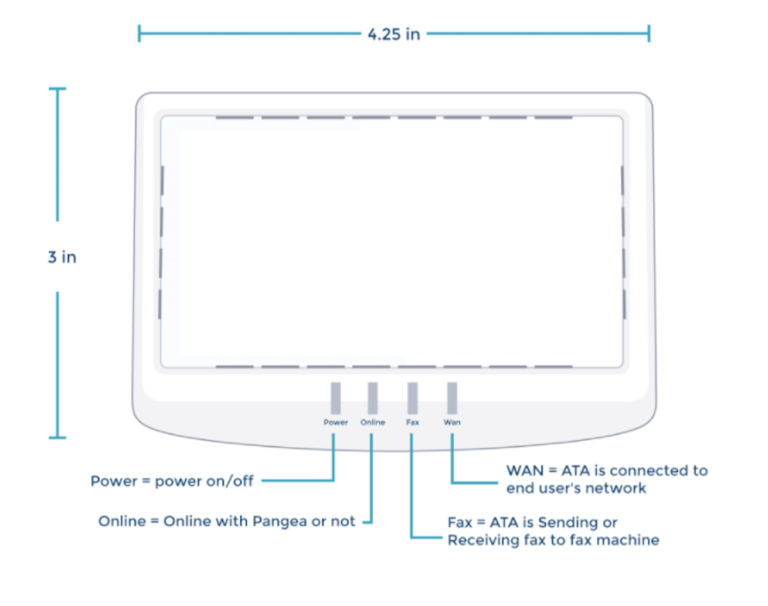 Benefits of the TeleData Link Fax ATA
Transparency: Clients may continue to fax as they always have
Plug and Play
Low-cost Fax ATA
Small packaging for low-cost shipping
Secure. All data transfer is TLS encrypted
WANT TO LEARN MORE?
We would be happy to schedule a demo to help you learn about TeleData Link.